REMEMBER! STAY HOME AND STAY SAFE!
See News for:
Your weekly special edition of the Loop (including previous editions)

Sunday Readings and Reflections

A Walk with Jesus through Holy Week (inc images etc for Easter Trees) material
Loop Special Sunday 7th June 2020 : Trinity Sunday Word .docx version || PDF version
Readings and Reflection for 7th June 2020 : Trinity Sunday Word .docx version || PDF version
Online Worship this Sunday 7th June at 6 pm!
Zoom in the Loop – Evening Prayer and catch up! Please let Peter, Mary-Lou or Hannah know by email by lunchtime on Sunday, if you'd like to receive the invitation link. If you have joined us before, you will already be on our list of regulars, but we definitely don't want this to be a closed group. All are welcome – it's relatively easy if you have a laptop, smartphone or pc with a webcam and audio. There are two formats for this week's to service to download print out, so you can have the words in front of you but also keep the Zoom screen view. [This week's files to follow Click for PDF file or Word.docx file.]
Midweek worship at home Click here for a lovely resource from the Church of England, giving a suggested rhythmn of daily prayer.
DURING THE CORONAVIRUS OUTBREAK, THE LOOP WILL BE PUBLISHED WEEKLY TO HELP US ALL KEEP IN TOUCH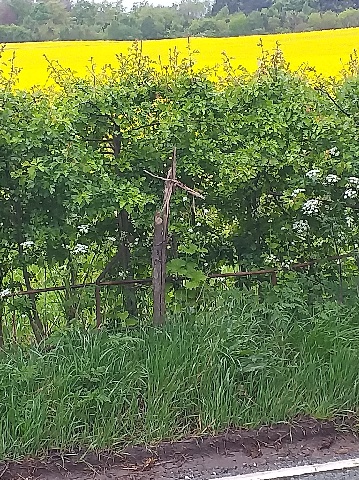 A cross in a hedge spotted opposite Leaton Church, by a passer-by. A small sign of hope to surprise us, nestling amongst the darling buds of May. Death and resurrection, death and resurrection, over and over- that is our Christian journey, and in these challenging times it throbs with a particular poignancy. May we find resurrection joy in the small things today, give thanks and be nourished!
Prayers For Use During the Coronavirus Outbreak
Click this link for the Church of England's 'Worship at Home' section of their Corona virus guidance page where you can download a PDF of prayers for use during the Coronavirus outbreak.
Read update from Mary-Lou Toop, Priest in Charge about Covid-19 here: Loop Bulletin 1 15th March 2020
A Prayer for these Unsettling and Anxious Days
Keep us, good Lord,
under the shadow of your mercy.
Sustain and support the anxious,
be with those who care for the sick,
and lift up all who are brought low;
that we may find comfort
knowing that nothing can separate us from your love
in Christ Jesus our Lord.
Revd Mary-Lou Toop 13 March 2020
We hope that you will find this website useful and informative, whether you are a visitor to the area, a local resident, or a regular churchgoer.
We welcome any feedback as to how we can improve your website experience.