Skip to this week's Readings and Reflection
DATES FOR YOUR DIARY
Friday 25 June at 7pm: Mary-Lou's Farewell Service
Monday 5 July at 7pm: Rev Hannah Lins to be licensed as Interim Priest in Charge by the Bishop of Shrewsbury
See News for further details
---
WORSHIP IN CHURCH
All but one of our churches are now open for public worship but, as all the social distancing regulations are still in place, we regret we are still unable to open the Mission Church in Bomere Heath.
CHANGES FROM MONDAY 17 MAY
Funerals
You may know the Prime Minister has announced that from 17 May, there is no longer a fixed limit on the number of mourners who may attend a funeral. Media coverage on this may have been rather misleading.
All the social-distancing regulations relating to places of worship are still in place. This means that the number of mourners each church can accommodate is still restricted by the 2 m distancing and the size of the individual building, together with the make-up of each congregation.
So we cannot give you a definite number that can attend: it will depend on the balance of individuals, households and bubbles among those you wish to be the funeral. We ask you to bear with us as we seek to help – the number of mourners who can be present is going to be different for every church funeral. Please also remember that some of our church buildings in Severn Loop are very small.
Weddings
You can now have 30 people at a wedding (you don't need to count the minister, organist, church and other workers eg photographer.)
Baptisms
Please contact a member of the clergy team to discuss a possible christening. We are starting to take bookings again, but it will not be possible yet to accommodate pre-Covid numbers.
Attending Worship
At this point all social-distancing and hygiene requirements are still in place. So please be prepared for that and wear a face covering while in church, unless medically exempt. Congregational singing is still not permitted in church, although we can now sing outside (weather permitting!)
Revd Mary-Lou Toop
Priest in Charge
15 May 2021
---
SHARING THE LIGHT IN THE LOOP – WEEKLY PHONELINE WORSHIP ON 01743 298285
'Sharing the Light in the Loop' is our own weekly phoneline worship, led by your own ministers, fresh for each Sunday!
Simply phone the number to hear a short service with prayers, a reflection and a hymn at the end. For many of our housebound folk this has been a gift of the pandemic because it has enabled them to feel part of the corporate life of the church once again, from the comfort of their home. It is also well-used by those who don't have easy access to the Internet. Even if you do, you may like to give it a try?! The message begins with an automated welcome, then a pause, then you'll hear the service. Do share the number with anyone who might value it.
---
The Loop newsletter (including previous editions)

Sunday Readings and Reflections
Loop for June 2021 : Word .docx version || PDF version
Readings and Reflection for 20th June 2021 : Word .docx version || PDF version
Online Worship via Zoom this Sunday 20th June at 6 pm!
Zoom in the Loop – Evening Prayer and catch up! Please let Hannah or Peter know by email by lunchtime on Sunday if you'd like to receive the invitation link. If you have joined us before, you will already be on our list of regulars, but we definitely don't want this to be a closed group. All are welcome – it's relatively easy if you have a laptop, smartphone or pc with a webcam and audio.
The Order of Service can be downloaded to view or print out (click or tap for Word.docx file or PDF file) and will also be emailed to our list of existing contacts along with the Zoom link. which will be sent out on Sunday. The reason for this is that we have had problems in the past when the invitation has gone out earlier – please always look for the most recent email!
Midweek worship at home Click here for a lovely resource from the Church of England, giving a suggested rhythmn of daily prayer.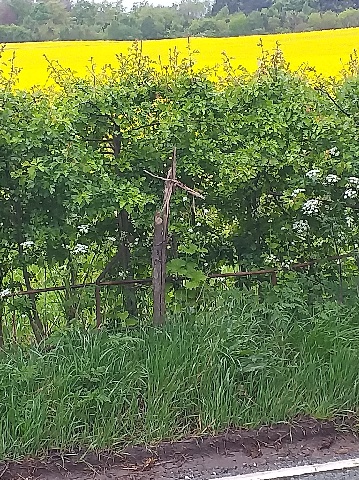 A cross in a hedge spotted opposite Leaton Church, by a passer-by. A small sign of hope to surprise us, nestling amongst the darling buds of May. Death and resurrection, death and resurrection, over and over- that is our Christian journey, and in these challenging times it throbs with a particular poignancy. May we find resurrection joy in the small things today, give thanks and be nourished!
Prayers For Use During the Coronavirus Outbreak
Click this link for the Church of England's 'Worship at Home' section of their Corona virus guidance page where you can download a PDF of prayers for use during the Coronavirus outbreak.
Read update from Mary-Lou Toop, Priest in Charge about Covid-19 here: Loop Bulletin 1 15th March 2020
A Prayer for these Unsettling and Anxious Days
Keep us, good Lord,
under the shadow of your mercy.
Sustain and support the anxious,
be with those who care for the sick,
and lift up all who are brought low;
that we may find comfort
knowing that nothing can separate us from your love
in Christ Jesus our Lord.
Revd Mary-Lou Toop 13 March 2020
We hope that you will find this website useful and informative, whether you are a visitor to the area, a local resident, or a regular churchgoer.
We welcome any feedback as to how we can improve your website experience.