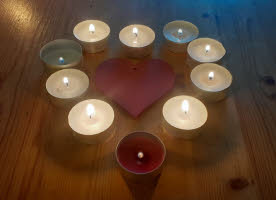 Whatever the circumstances, the death of a loved one is an extremely sad and difficult experience to navigate. We are here for you- as praying companions along the way, and as witnesses to the hope of eternal life. If you would like to explore a Church of England funeral service for a recently departed relative, do please do let your Funeral Director know, or get in touch with one of our ministers. It is always a privilege to serve members of our communities in this way, whether in one of our churches or at the Crem.
As part of our ongoing funeral ministry, we also hold an annual Remembering with Love service on All Souls Sunday (end of October).
To find out more about burials in our churchyards, go to the Churchyard Burials page.
'For I am convinced that neither death, nor life, nor angels, nor rulers, nor things present, nor things to come, nor powers, nor height, nor depth, nor anything else in all creation, will be able to separate us from the love of God in Christ Jesus our Lord.'
Romans 8: 38-39