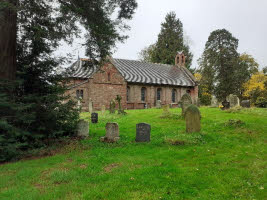 We are blessed in Severn Loop to have open churchyards in all our churches. This means that those who live in the parish at their time of death can, if it is their wish, be buried there. Some of our churchyards are close to full; whereas others still have lots of space. All of our churchyards also have areas for the burial of cremated remains.
Open churchyards are well-loved and shared spaces. They are a source of peace for those who visit them, and point us to the hope we have in God who is stronger than death. Because they are shared spaces, and consecrated ones, there are various rules and practices that we abide by. That's why there are churchyard regulations governing the stonework that is permitted, and the wording, size and shape of memorials (to find out more do go to Diocese of Lichfield | General Information about Churchyards (anglican.org)). We also expect all of our visitors to respect other mourners and to take responsibility for their dogs (keeping them on leads and clearing up after them). Some lovely friendships have actually grown up around gravesides, where people have shared in a common bond of coming to a special place to remember a loved-one.
In recent times, we have become more conscious of our environmental stewardship and how this plays out in our churchyards. That is one of the reasons that we only permit fresh flowers on graves, and in some places we are also developing wildflower areas to increase biodiversity and native species. Our regulations do not permit objects other than flowers on graves, except wreaths at Christmas and anniversaries. These will be removed after six weeks.
Most of our churchyards are maintained by volunteers. At Montford Caring for God's Acre look after the space, using traditional land-management methods, including scything! In most places though, we rely on local folk being willing to be part of an upkeep rota- we are very grateful to them.
If you visit one of our country churchyards, we hope and pray that you will be nourished by a sense of God's peace and the wonder of natural beauty. The views in many are amazing!
Psalm 121
1 I lift up my eyes to the hills—
from where will my help come?
2 My help comes from the Lord,
who made heaven and earth.
3 He will not let your foot be moved;
he who keeps you will not slumber.
4 He who keeps Israel
will neither slumber nor sleep.
5 The Lord is your keeper;
the Lord is your shade at your right hand.
6 The sun shall not strike you by day,
nor the moon by night.
7 The Lord will keep you from all evil;
he will keep your life.
8 The Lord will keep
your going out and your coming in
from this time on and forevermore.